Membering
is a personal exploration of my family's history. Mer Rouge is a small town in Louisiana named for the red fields of dirt that rise as you drive over the hill towards the center of town. The place was built by the labor of enslaved men and women brought by my ancestor Josiah Davenport. Josiah was also the captain of the ship
Cleopatra
that most likely was used as a slave ship out of Providence, Rhode Island. I did not grow up in Louisiana, my mother left for Baltimore when I was two, but I spent my summers with my father in the south. This ongoing exploration combines documents and photographs related to my family archive from both the northern and southern ancestors.
The work was exhibited at the Tower Fine Arts Gallery at SUNY Brockport in September 2018.
---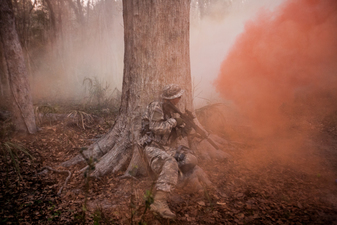 Theater of War
Theater of War is a series of works based on an archive of photographs made of men playing games with air guns that are based on news reports and veteran's experiences in contemporary conflicts. The book was published in the fall of 2014 by Intellect Press and a performance of one of the photographs took place in the Hunter Times Square Gallery in 2009.
---
"Car bomb" is a performance and workshop. The workshop was held in collaboration with director and writer Len Fonte and his high school drama students and was sponsored by a fellowship with the Everson Museum. The workshop included discussion and exercises about how images of conflict live in our imagination and culture and culminated in a "re-filming" of the opening scene from "Saving Private Ryan" which was based on the D-Day photographs by Robert Capa. "Car Bomb" is based on a photograph of a fake car bomb from the "Theater of War" series and was performed shortly after the workshop during the TONY biennial in Syracuse in 2012.
---
Midtown Plaza was the first urban mall in the US. It was built in 1962 and slowly destroyed between 2010-2013. The destruction of Midtown Plaza held an eerie resemblance to images from 9-11.This series of photographs both created and from archives as well as installations and site specific interventions explore the embedded mutual memories in news photographs and how images of construction and destruction carry deeper narratives. The work in progress was exhibited in the Project Space at Visual Studies Workshop in 2014.